FAQ
Last updated on by
Contributors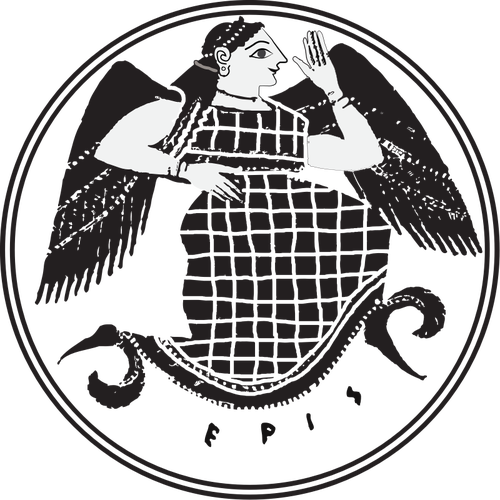 ---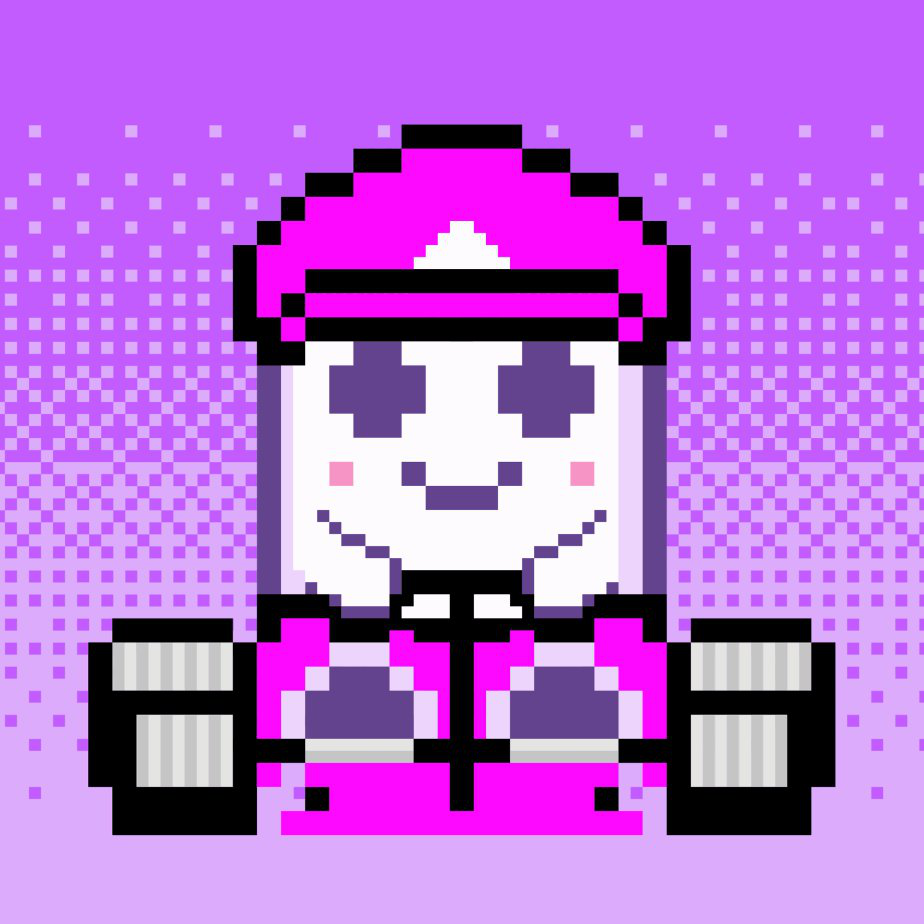 Aavegotchi Goes Brrrrr
AARCHIVERS AT WORK
This page is being built continuously.
The FAQ is designed as a quick-reference guide for short answers to quick questions. For more in-depth info, check out the embedded links or peruse our sidebar for general topics.
General FAQ
I'm new to Aavegotchi. After launch, how do I play?
STEP 2: Use your GHST to buy a Portal
STEP 3: Deposit collateral into Aave to get aTokens for the Aavegotchi you choose
STEP 4: Stake your aTokens to claim your Gotchi
You can find an in-depth outline of gameplay here.
When can I get an Aavegotchi?
2 March 2021 on Polygon! The metaverse will open shortly after (Q1 2021).
When is mainnet launch?
Mainnet was originally scheduled for launch on 4 January 2021. Due to high congestion on the Ethereum blockchain at that point, a community vote was put into action. The community voted for the launch of Aavegotchi on Polygon at a later date. The Aavegotchi team has confirmed the 2 March 2021 launch date on Polygon.
What can I do now?
Right now, you can:
Enter Raffles to Win Wearables: Until mainnet launches, the community is holding a series of raffles where you can stake your GHST to earn FRENS. With FRENS, you can enter any of the remaining raffles for a chance to win unique wearables for your Aavegotchi.
Do I need KYC to play Aavegotchi or own GHST token?
No! You only need to do KYC if you want to buy GHST directly from the bonding curve. You can purchase GHST on Uniswap without KYC, as well as on certain exchanges. Meanwhile, no KYC is required to buy portals, play games, stake GHST, or for any other aspect of the Aavegotchi project itself.
The table below summarizes the information:
| | | | | | | |
| --- | --- | --- | --- | --- | --- | --- |
| USA, Iran, China, India, Pakistan | Yes | Yes | Yes | Yes | Yes | No |
| Everywhere else | Yes | Yes | Yes | Yes | Yes | Yes (with KYC) |
What does Aave have to do with Aavegotchi?
Aavegotchi began with an Aave ecosystem grant, entrusted with permission to use the Aave ghost logo. The Aavegotchi game incorporates the use of aTokens as a central element of gameplay, and as of November 2020, Aave is also an official investor in Pixelcraft Studios, the team behind Aavegotchi.
Can aTokens staked inside an Aavegotchi get liquidated?
No. The aTokens staked inside an Aavegotchi cannot be used as collateral for borrowing on the Aave platform. Thus, such aTokens cannot get liquidated.
What are maTokens?
maTokens are aTokens which have been transferred to Polygon. Like aTokens, they accrue interest over time!
Bonding Curve FAQ
I bought GHST but I can't see it in my wallet
After making a purchase on the bonding curve, you need to make another transaction to claim the GHST tokens. Please see the screenshot below for an example. The user has to click the "CLAIM ORDER" button for the GHST tokens to appear in their wallet.

Can people frontrun the Bonding Curve?
No. When you make purchases/sales of GHST token on the bonding curve, transactions are batched along with other people's transactions before being sent to the smart contract. They are not able to bid on a lower GHST price with a higher gas fee to frontrun your purchase.
FRENS FAQ
Can I buy FRENS?
No. FRENS are a way to reward our community members who staked GHST.
Are FRENS used for anything besides raffles?
No, the only thing FRENS are for is entering Aavegotchi raffles. The rest of the Aavegotchi ecosystem will be powered by GHST.
What happens to the FRENS on Mainnet after the game launches on Polygon?
Your FRENS balance will be automatically transferred to Polygon. FRENS on Mainnet will then become worthless.
Why is the GHST-USDC LP yielding 74M FRENS per day?
An early depositor in the GHST-USDC pool on QuickSwap messed up the ratio between the assets. Hence, when depositors add to the pool, they receive tiny amounts of LP tokens, like 0.00006. See the tweet here for lulz.
Raffle FAQ
See Raffles for general information on raffles.
Does buying a ticket mean I'm entered into the raffle?
No! Please be aware simply buying tickets with FRENS does not automatically enter you into the raffle. You need to STAKE your tickets during the 72 hour-time period that the raffle is open. This includes two transactions on the Raffle page - approve your tickets, and enter your tickets. If you've submitted your tickets successfully, you'll see the number of tickets you've entered in the raffle on the Stats page.
Will raffle wearables be available in the Aavegotchi store?
No. The only time these wearables will ever be released is during the pre-launch raffles.
Are raffle wearables special?
As far as gameplay, raffle wearables will offer the same boosts to your Aavegotchi as any other wearables in their rarity class (such as rare, mythical, etc). On the open market, whether they have more resale value due to their pre-launch status or brand associations will be determined by market demand.
How do you transfer raffle tickets?
Raffle Tickets are based on the ERC-1155 standard. Currently, tokens based on this standard can be transferred using the Opensea interface. Once at Opensea, connect your metamask and key in the wallet address of the recipient to transfer your raffle tickets to them.
Will there be Raffles after Mainnet launches?
Yes, there will be additional raffles after Mainnet launches. However, they will be infrequent and would not be announced beforehand. This is to reward users who are still staking and accumulating their FRENS and/or raffle tickets.
Wearable FAQ
Do I need to transfer my wearable vouchers to Polygon?
No. Both claimed and unclaimed wearable vouchers will be automatically transferred to Polygon when Aavegotchi launches.
Portal FAQ
How many portals can you buy in 1 transaction?
Each user can purchase up to 50 portals in 1 transaction. This is to prevent whales from monopolizing a huge number of portals at one ago.
If I open a portal but do not have the atoken needed to claim the gotchi, can I come back later to claim it?
Yes, you can leave the portal opened, go acquire the specific aToken, and come back later to summon your gotchi. You do not need to prepare the aTokens beforehand.
When will portals be released?
Portals will be released on Polygon at February.
AavegotchiDAO FAQ
How do I vote using Trust Wallet on Aragon?
As at this point, Aragon has not integrated Trust Wallet yet. An alternative solution is to import your private keys from your Trust Wallet into Metamask. Once in Metamask, you can now vote on Aragon.
See here for more information on how to do so.
Gameplay FAQ
Do higher trait scores always mean higher rarity?
Aavegotchi rarity is based on a bell curve - meaning both extremely high and extremely low trait scores are desirable. Trait scores that fall in the middle of the 0-100 range are more common.
How much does it cost to play?
Portals are expected to cost 100 GHST for the first haunt. Costs for other items like wearables, consumables and land will be announced as they're officially released - though after game launch, the DAO will have the power to adjust asset prices via governance vote. In the meantime, you can check out what some of the open market prices currently are for certain wearables on OpenSea.
Does changing the collateral staked affect kinship level?
No, increasing or decreasing the collateral/aToken staked in the Aavegotchi does not affect kinship level.
Technical FAQ
Is Aavegotchi on-chain?
All elements of the Aavegotchi game are stored on the Ethereum blockchain. You can read more about our unique design using the Diamond Standard here.
Which wallet should I use with Aavegotchi?
Metamask has by far been the best option to use with Aavegotchi according to our community's experience. Metamask and Arkane wallet - which will be integrating with Aavegotchi soon - also both support ERC1155 tokens, meaning you'll be able to see all of your assets (such as wearables) in your wallet in addition to your GHST tokens.
Will Aavegotchi run on Layer 2?
Yes! Aavegotchi uses Polygon as a Layer 2 solution. The team selected Polygon as they have a strong team, made progress on decentralization, and what appears to be a strong network effect with other NFT platforms like OpenSea.
Do I need to migrate my Aave tokens?
Aavegotchi will work with aTokens from Aave version 2.0 - so be sure to migrate any tokens you have on version 1 before trying to claim your Aavegotchi. According to Stani, we should have a migration tool out soon (before launch) :)
How do I migrate to Polygon?
Check out our Polygon Migration Guide.
I have a ledger / trezor, what do I do?
You could still access Polygon using the Trezor One. For all others, it is not possible for now. You could create a new Metamask wallet and DM @Jesse | gldnXross#6482 for help.
Why can't I see my Polygon GHST on Metamask?
Make sure you have completed two transactions: (1) approve transaction, and (2) migration from Mainnet to Polygon transaction. The token address for GHST on Polygon is as follows: 0x385Eeac5cB85A38A9a07A70c73e0a3271CfB54A7
Why can't I see my LP Tokens on QuickSwap?
After you have staked your LP tokens on QuickSwap, you will not be able to see them in your wallet. Unstake them if you want to see them being reflected in your wallet.
Can I send Polygon-side tokens to Centralized Exchanges directly?
No! You should not send Polygon-side tokens to Centralized Exchanges (e.g. Binance, Coinbase, etc) directly. You have to bridge them back into Ethereum Mainnet before doing so.
Why is Metamask rejecting my token symbol?
Metamask has a maximum limit of 11 characters for their token symbol. You can change the token symbol to something shorter and it will work. Changing the symbol to something shorter does not affect the token; it only affects the display on your Metamask.
Quite a number of people have encountered this issue as the stkGHST-QUICK token symbol has more than 11 characters.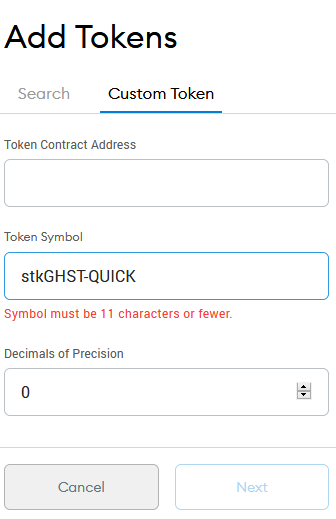 I withdrew my GHST from Polygon but I have yet to receive them even after a long wait
I withdrew my GHST tokens (or any other assets for that matter) from Polygon back to Ethereum Mainnet using the Aavegotchi Bridge. After a few hours, I have yet to receive my assets on Ethereum Mainnet. What can I do?
First, head over to the Polygon Block Explorer and key in your transaction ID. Obtain the Block Number of your transaction.
Next, replace the [blockNumber] portion in the following URL with your actual Block Number and go to that URL:
https://apis.matic.network/api/v1/matic/block-included/[blockNumber]
That URL will indicate the status of your withdrawal transaction.
If your transaction has not been processed by Polygon, please continue to wait patiently. There have been cases where it took up to 6 hours.
If your transaction has been processed by Polygon and your assets still do not appear on the Aavegotchi Bridge UI, please contact Coderdan (or any other aapprentices) for support.
...to be continued!